hi, i'm Lisa
a tattooist and fine artist born and raised in London, England of Chinese Mauritian heritage.

Growing up on graphic novels and cartoons, I was drawn to a creative path since childhood.
After graduating with a BA degree in animation, I worked my way up to senior digital designer for marketing agencies with clients including Disney, Sony Music and King Games. At the same time I was constantly working on personal side projects to stay creatively sane, exhibiting my art in galleries and sharing work online.

Eventually I quit the office grind to focus and fall back in love with art. During this time, a well-known tattooist found my work online and offered me an apprenticeship. I was introduced to a refreshing world of creative freedom with a rich history, I immediately accepted and my tattooing journey began.

I make artworks on skin, paper and wood. Exploring themes of mysticism and the cosmos, the clash of eastern and western traditions, feminine sensuality and moods. My work includes elements that draw from nature, nostalgia, poetry and music.

Tattooing since late 2020, I love tattooing my flash designs as well as creating custom designs for clients that intertwine my art style with their personal story. A collaboration that produces artworks that are unique and flow harmoniously with the body. Find out more and let's work together.
The flexibility of tattooing has allowed me to work in studios around the world, from Paris to New York. Check here for future guest spot dates or email me to suggest a city I should travel to next.
Thank you for visiting and supporting my craft!
specialising in delicate fineline tattoos, creating pieces with organic abstract flows, soft textures and botanical, figurative and cosmic motifs
frequently asked questions
what pencils and materials do you use?

I love mechanical pencils: Pentel Graphgear 500 in various sizes and Platinum Polyter MPH-16 are my favourites.

For precision erasing, kneadable rubbers are the best. For blending, I use a cheap dry brush and blending stumps. I draw on smooth cartridge paper ranging from 130gsm - 230gsm.

I use Procreate on the iPad for drawing tattoo designs and planning sketches.
how long have you been drawing?

Probably before I could write, I drew all the time, doodling in classes and whenever I could!
are you self-taught or did you study art?

Both, all artists are self-taught, formally trained or not. We're always learning from our own mistakes, peers and artists before us.

I did an Animation degree (mostly 3D/VFX focused), took short courses and workshops: life drawing etc., studied techniques from my favourite artists (most accessible way to do this is to analyse and copy their work - with credit if posting), watched art tutorials and made a lot of crappy art in between the good ones.
what tattoo equipment do you use?

Bishop Power Wand 4.2 Packer or FKA Irons Spektra Xion pen with Cheyenne, DaVinci or Kwadron needles usually in 3rl or single needle.
I use Dynamic black ink and Eternal coloured inks which are all non-toxic and vegan-friendly.
advice for aspiring tattoo artists?

Draw all the time. The fundamentals, different styles and begin developing your own style. It will make the transition to tattooing easier.

If you haven't already, start your online portfolio of designs, Instagram is recommended. It's a good idea to start growing your audience and garnering interest before you start tattooing.

Apply for apprenticeships, this is the safest way to learn. Email shops and look for a mentor with at least 5+ year experience.

Save up money or get a side job, because apprenticeships will be unpaid and hard work. Expect cleaning work in order to learn hygiene and safety, you'll shadow artists, ask questions, draw everyday and practice on fake skin.

Stay humble but set boundaries, abuse shouldn't be expected because "this is how you earn your stripes in the industry". If you're being taken advantage of or abused don't force yourself to stay at a shop because you've been told this is how it works.
It's always worth messaging past/current resident artists and apprentices to see how a shop treats them before applying.
Good luck!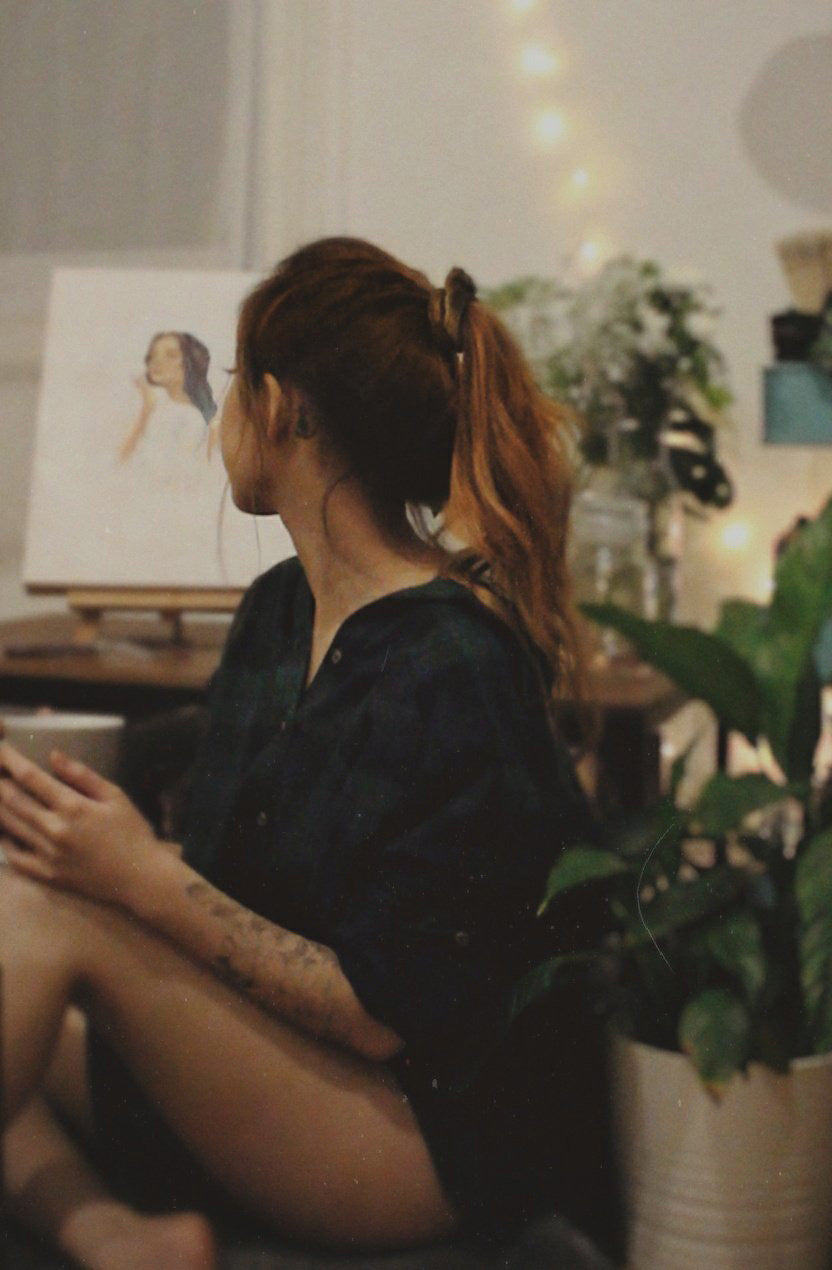 exhibitions and events
the future,,
in progress...
the past ,,
2022, Oct 30, Blæc Tattoo Halloween Flash day, London
2022, Blæc Tattoo Birthday Flash day, London
2016, 'Conflict', Dark Sugars, London
2016, 'Roots', Dark Sugars, London
2016, 'Pancakes & Booze', Studio Spaces, London
2016, 'Origins', Dark Sugars, London
2016, 'ERA-404', The Ben Oakley gallery, London
2015, 'It's the Dogs', The Ben Oakley gallery, London
2015, 'Femme Fierce' Street Art Festival, London
2014, 'Valentine Art Show' Brighton Tattoo Convention, Brighton
2014, 'Art In Mind', Brick Lane gallery, London
2014, 'The Scribble Project', City Library, Melbourne
2013, 'No Flakes', The Ben Oakley gallery, London
2012, 'Urban Barrier', No Format gallery, London
weaving together realism and surrealism to create visual dream worlds made of graphite, paint and ink
contact me
for enquiries or collaborations etc. email 
lissixiu@gmail.com